What's great about
LIFE IN CORNWALL
Cornwall's coastline is truly breath-taking. From the rugged cliffs of the north coast to the golden sands of the south, there is always something new to explore! If you looking to study in Newquay, take a look at this north coast beach guide.

Did you know Cornwall has over 300 beaches? And if you're thinking, the beach is not for me, then read on to see just how much there is to do & see on Cornwall's 250 miles of coastline!
Wildlife – Cornwall's coastline is home to a rich variety of wildlife, including seals, dolphins, and seabirds, making it a popular destination for nature enthusiasts. Hannah Stitfall (@hannahstitfall), who is a Newquay University Centre alumna, is now a TV wildlife presenter on BBC Springwatch and films a lot of her social media wildlife content from Cornwall and it's stunning, take a look!
Photography – Cornwall is not short of a spot or two for a breath-taking photo opportunity! The county is home to some award-winning beaches such as Porthcurno, Sennen Cove, and Kynance Cove, with crystal clear waters and stunning scenery. Oh & don't forget those well-known engine houses right on the cliff too near St Agnes, along by St Just & at Geevor tin mine.
Cultural sites – Talking about engine houses & mines, did you know that during the 19th Century, mining in Cornwall reached its peak, with around 2,000 mines in action across the county. Cornish mines have had World Heritage Status since 2006 and is recognised by UNESCO. To put this in context, this status puts Cornish mines on a par with Stonehenge, the pyramids in Egypt and Machu Picchu!
Walking- there's lots of walking groups & community groups on social media that meet up in Cornwall to go hiking & exploring together. There's lots of apps too that will take you along coast paths or through fields & woodland. Go alone for a wonder to clear your head or join a group to meet new people, massive hills are always round the corner in Cornwall so a great way to get your exercise in!
North Cornwall Beach Guide
Newquay
Wherever you are staying in Newquay or the surrounding villages you are never far away from a beautiful beach! Here's a guide to the 15 beaches you will find along the north coast – Beaches in and around Newquay (visitnewquay.org).

Whether you fancy a bit of seal/wildlife spotting, surfing, pubs/restaurants on the beach (ps Fistral Beach Bar, The Watering Hole (Perranporth) & Lusty Glaze beach bar is a must, but here are some other suggestions from Trip Advisor THE 10 BEST Restaurants with a View in Newquay – Tripadvisor), activities, sand dune exploring, there's lots to choose from!

North Cornwall
Whether you decide to visit a north-east beach like Widemouth Bay or one much further east like Gwithian Beach there are plenty to choose from which are perfect for a day exploring or relaxing. The north coast boasts steeper & more rugged cliffs with the best surf & body boarding beaches. There are lots of family-friendly & lively seaside towns that you can incorporate into a day out too including Bude, St Ives & Padstow. Read more here Beaches in Cornwall | UK beach holiday | by Visit Cornwall
South Cornwall Beach Guide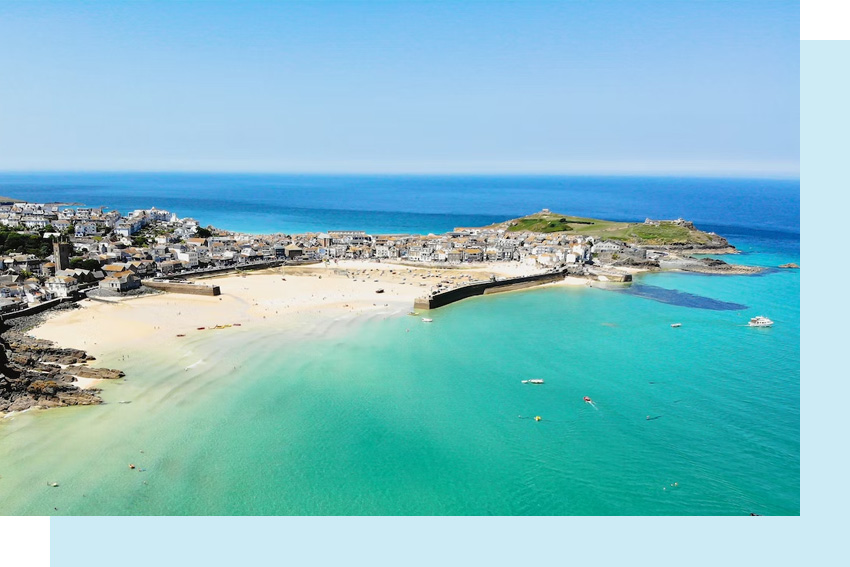 Beaches on the south coast are much more sheltered, including pretty coves with picturesque fishing harbours & estuaries including infamous Kynance Cove, Nanjizal & Rock Beach

The waves are often smaller & therefore may be slightly quieter than their north coast neighbours which is a huge bonus in the busier months. There are many more secret coves on the south coast which are waiting to be explored by paddleboard! Of course you can paddleboard more places in Cornwall & be greeted with stunning views, 4 out of the 6 on this guide are on the south coast – 6 Amazing Spots For Stand Up Paddle Boarding In Cornwall (red-equipment.co.uk)
Cornwall is the UK's surf mecca. From the mile-long sandy Praa Sands in the sunny south to the well-renowned swell of Fistral up north, it's full of world-class surfing spots. If you don't currently surf but would love to learn & join a laid back community, there are lots of surf schools to choose from.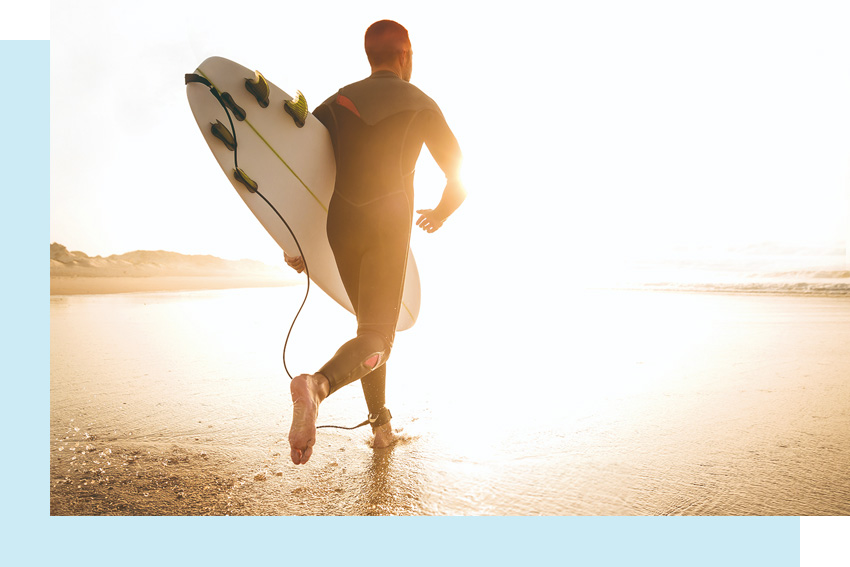 Did you know our Newquay University Centre campus has a classroom on Fistral beach which our FdSc Surf Science use? An ideal location for them to try out the surf on their lunch break!

Watergate Bay is perfect for beginners with reasonably sized waves for learning on or for body boarding. If you fancy a couple of lessons you can head to Newquay where there are plenty of surf schools to choose from. Chat to our teams too as we should have contacts and discounts for you too.
So many of our staff & students take part in cold water swimming, have you ever tried it & felt the rush after coming out the water? Over the last few years, since lockdown this popular activity, which boosts your mood & has numerous health benefits, has seen a huge resurgence amongst all communities not just the sport industry.

Wild swimming is one of the most affordable and easy-to-access physical activities available & there are so many locations in Cornwall you can choose from, whether it's a beach, tidal pool or harbour, you're never far from water!
Check out Wild Swimming Groups in Cornwall — WILD SWIMMING CORNWALL to find your nearest Blue Tits or Blue Balls group!
Newquay
Living & studying in Newquay will mean that you get to know all the best places to meet friends & relax on a night out. You'll also find the priceless ones that are a bit quieter come tourist season too!

Newquay nightlife can be what you want it to be…a quiet, relaxing meal with friends & family or celebrating that finished assignment with your classmates! This is a handy guide Pubs & Bars – Newquay (visitnewquay.org)

PS you need to try the local cider Rattler which is made just 9 miles away at Healey's Cyder Farm, the largest independent cyder-maker in Cornwall.
Falmouth
Falmouth has more to offer in nightlife than you might think! There are many bars, clubs, pubs, cafes and coffee shops. The seaside town is home to Falmouth University & Exeter University Penryn campus so there is a large student community living in & around the centre.
Truro
If you are looking to study in mid or west Cornwall, Truro city centre is only a short bus/train ride away & a very popular location for a night out & some delicious food! Check out more here- Food and Drink Truro, Cornwall – Places to Eat in Truro (visittruro.org.uk)
There are lots of large-scale events & festivals in Cornwall that are a must whilst staying in Cornwall, how about visiting one of these. A festival in Cornwall is really like no other, from watching an international singer on the cliffs overlooking Watergate Bay to sneaking away to a secret gin garden amongst nature…

Eden Sessions, are a series of live outdoor music concerts held in the summer at the Eden Project.

Tunes in the Dunes, is a three-day live music festival featuring major headline acts, situated directly on the beach in Perranporth.

The Great Estate, at Scorrier House, Redruth, in June, is a described as the most rambunctious garden fete & is a weekend full of entertainment, secret gin gardens, food & drink.

Boardmasters, held annually in August, this is a popular music & surf festival featuring a line-up of both established & emerging artists, as well as a range of surf competitions & beach activities in Newquay. The acts are usually pretty amazing & the sunsets can be immense!

Sky Bar where fresh cocktails, DJs, live music, great food and stunning views come together to create the perfect aprés sea party atmosphere. Venues in Cornwall include St Ives, Newquay, Polzeath.