16th December 2022
Students team up with Michelin starred chef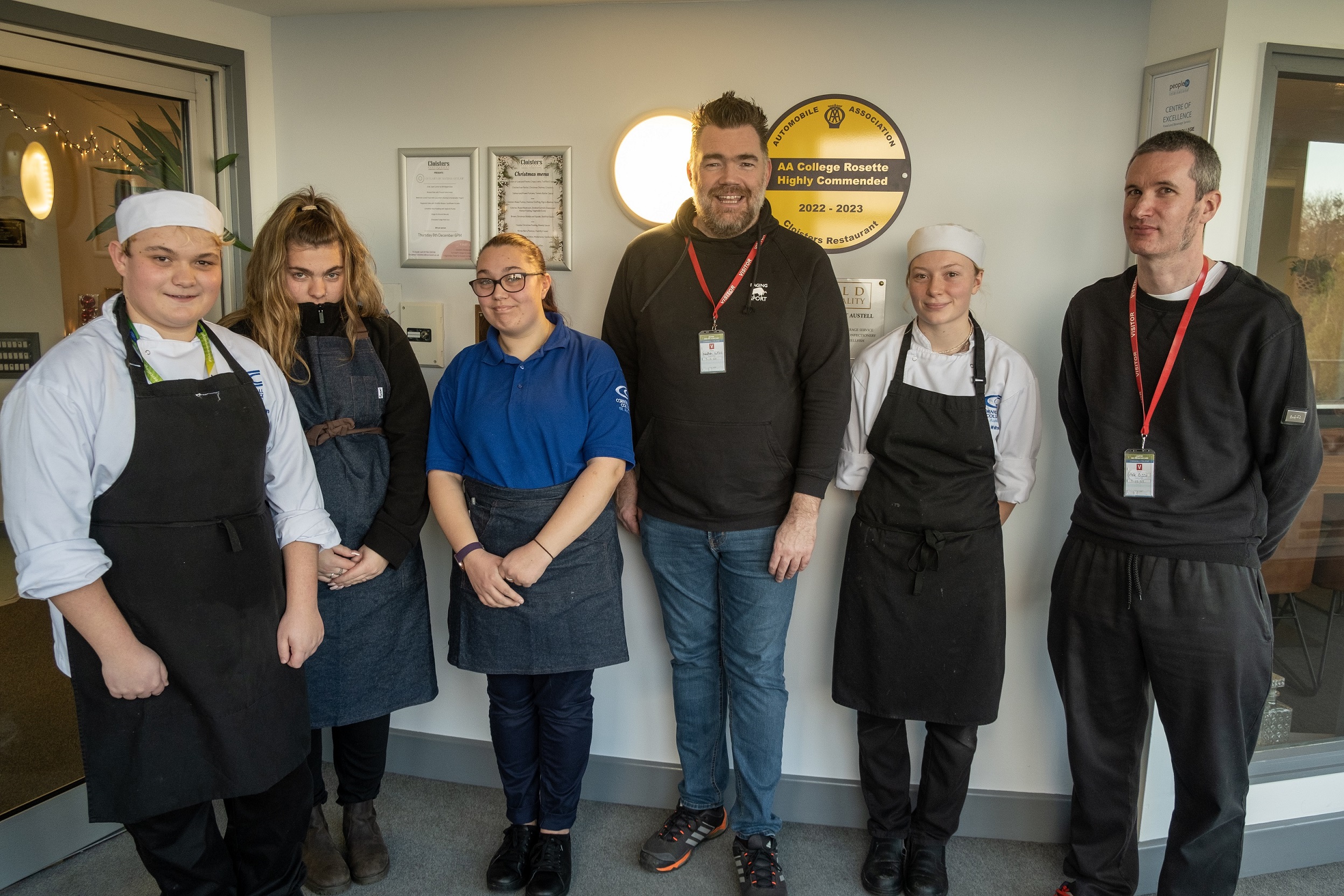 Students team up with Michelin starred chef
Professional cookery students from Cornwall College were given a taste of success at a recent pop-up culinary event, that saw them collaborating with Nathan Outlaw and his Michelin starred team of chefs.
The students, all studying professional cookery and hospitality qualifications at the College's St Austell site, hosted the fine dining experience to members of the public at Cloisters Restaurant, the student-run eatery on campus.
Some of Nathan Outlaw's top chefs worked alongside the students to create a special gourmet experience including a three-course & petit fours menu. This included Pete Biggs, head chef at Outlaw's New Road and Nathan's right-hand man for nearly twenty years, as well as Jake Grove, who landed a job with Outlaw after studying at Cornwall College St Austell.
Nathan Outlaw praised the students for demonstrating "excellent cookery skills and great hospitality performance."
"It was brilliant to get down to Cornwall College's Cloisters restaurant and work with the students there.  My head chef and I were impressed at the knowledge they already have and their eagerness to learn more," continued Nathan.
"It's great to see young chefs and front-of-house coming through the college and being nurtured by the staff there, and with staff shortages being a major concern in the Hospitality industry it's reassuring that we have such talent coming though in Cornwall."
This isn't the first time Nathan and his team have visited Cornwall College, and they hosted a similar pop-up event earlier this year.
17-year-old Neve Walton from Bodmin has been studying Professional Cookery Diploma Level 3 and did her work experience with the team at Outlaw's New Road. Neve impressed the chefs so much, that she gained a job working at the restaurant on the weekend, which she now balances alongside her college studies.
Neve said: "Getting the chance to be involved with Nathan Outlaw and his team has been an incredible experience.
"I love the challenge of working with professional chefs of such a high standard and I'm learning so much. It's been really useful experience that I can take forward into my career in the industry."
Find out more about studying Professional Cookery or Hospitality at Cornwall College at www.cornwall.ac.uk