15th February 2023
Masterclass with international photographer Paul David Smith
Masterclass with international photographer Paul David Smith
Students studying photography at Cornwall College St Austell delved into a "day in a life of a professional photographer", and gained valuable insight from Newquay based photographer, Paul David Smith.
After a fascinating talk by the renowned international photographer, students were treated to a free studio lighting workshop, followed by a fantastic opportunity to take professional photographs.
With 20 years in the field, Paul David Smith captivated students with his knowledge and experiences of the world of photography.
Paul emphasised the importance of branding and marketing for photographers, and how to stand out in a highly competitive industry – his speciality is fantasy portraits.
He also gave practical advice on how to build a successful career in photography, including tips on building a portfolio, networking, and finding new clients – something which has been instrumental in raising the profile and awareness of his own business.
Two models from Cornwall College Acting course, Jasmine Squires and Olivia Hellings, dressed in armour and period clothing, supplied by Paul.
Richard Squires, the Study Programme Manager for Photography, Arts & Media at The Cornwall College Group was thrilled to have an inspirational international photographer share his tips and skills with the students:
"His talk was engaging and informative, the students were captivated by Paul's enthusiasm and professional experience, we are grateful for the opportunity to learn from such a talented photographer."
"We hope that this masterclass will help our students see the wonderful possibilities within the industry, explore their creativity and achieve their goals." Richard added.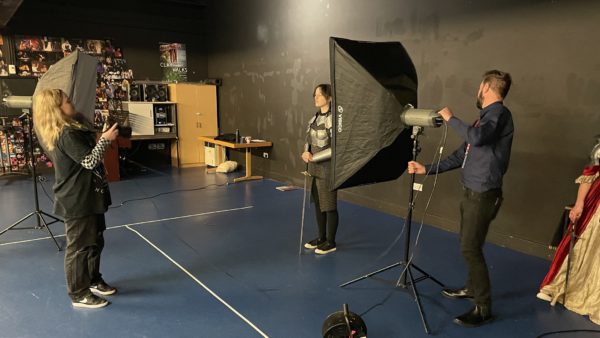 The students were inspired by Paul David Smith's passion for photography and his willingness to share his knowledge and experience.
They left the event feeling motivated and equipped with new skills and insights, that will help them build successful portfolios in the future.
For more information on Paul David Smith visit his website.
Visit Cornwall College website to find out more about our photography, art and media courses.
#TheCareerCollege #Inspiring #Photography