8th September 2022
MasterChef Miguel meets Michelin-starred standards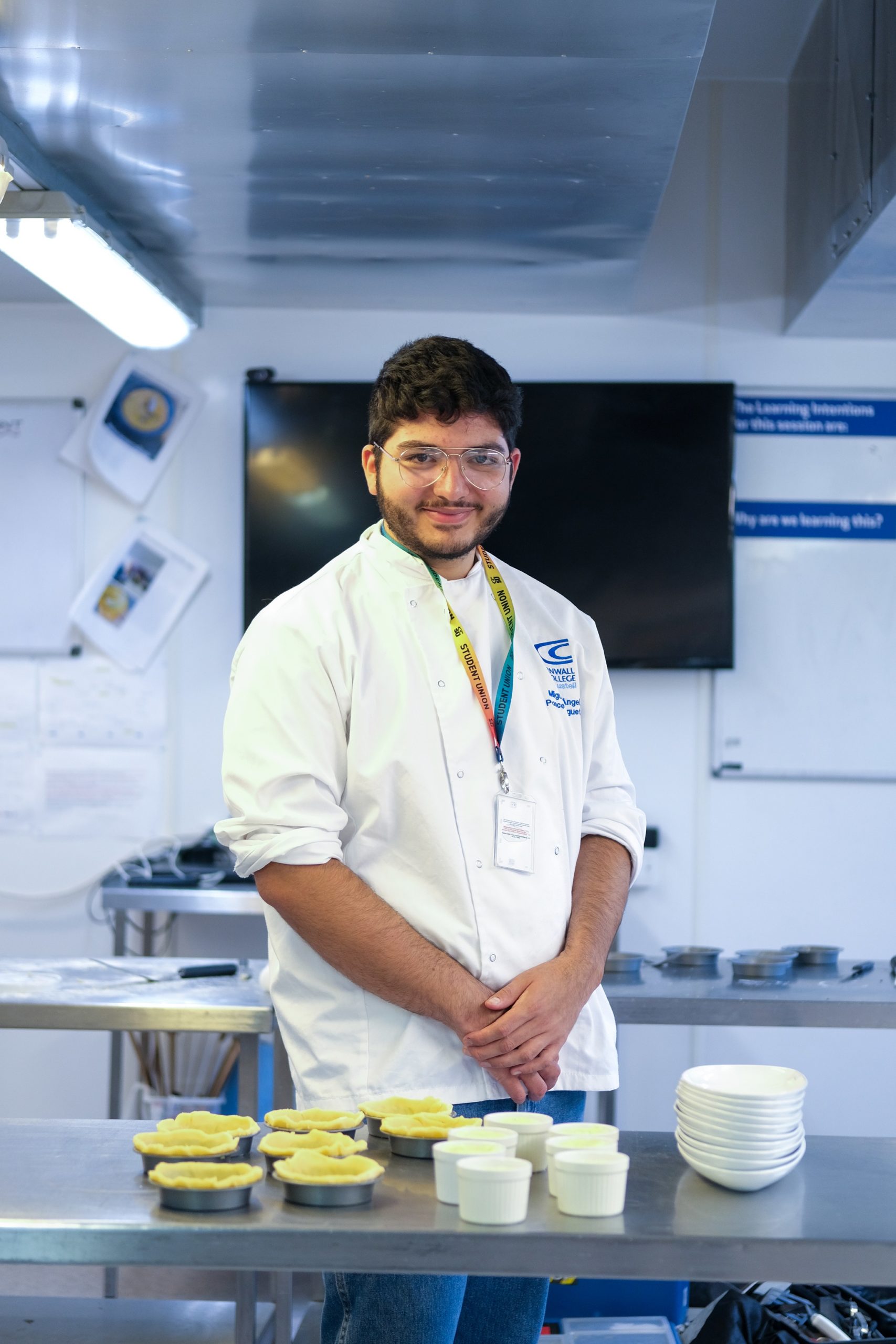 MasterChef Miguel meets Michelin-starred standards
A talented young chef from St Austell, has used the skills he gained at Cornwall College to land a once-in-a-lifetime job at one of the UK's top seafood restaurants.
Nineteen-year-old Miguel Argueta from Bugle, has been cooking on gas since finishing up his Advanced Technical Diploma in Professional Cookery at Cornwall College's St Austell campus.
Miguel, who progressed to the College from Poltair School, achieved a distinction star for his hard work, which is the highest grade possible and places him in the top 2% of student chefs in the UK.
Furthermore, he has since used his knowledge and talent to secure an incredible career opportunity, working at Outlaw's Fish Kitchen in Port Isaac.
Established and run by renowned chef Nathan Outlaw, the Michelin starred restaurant is regarded as one of the leading seafood establishments in the country.
"Miguel first came to my attention whist dining at the college restaurant," explained Nathan.
"Immediately I was impressed by his confidence and jolly attitude. This result is brilliant for him and shows that with hard work and a positive outlook towards hospitality you can do extremely well," Nathan continued.
"Miguel has a promising and bright future ahead."
For Miguel, who's wanted to be a chef since he was 14 years old, the opportunity to work at Outlaw's Fish Kitchen is a dream come true.
"Working with chef Nathan is the very best place I could be at this stage in my career. I'm learning and developing my skills by the hour with so much to explore and see," described Miguel.
"My career goal is having my own business, I would love to bring the world of top-quality food into more people's lives and for it to be accessible for everyone who wants to try it, so having a small restaurant or owning a few food trucks is where I see myself in a few years' time."
Cornwall College chef lecturer Steve Rudd described Miguel as "deserving of every success."
"From day one, Miguel's understanding of flavours and combinations stood out for me," Steve explained.
"One of the best elements of the course at Cornwall College is that our students can put their own stamp and style on their exam dishes and Miguel executed his cookery and flavouring to an exceptional level," continued Steve.
"To see Miguel go on to become a member of Nathan Outlaw's team is an excellent example of our 'Career College' ethos in action. I couldn't be prouder of everything he's achieved."
Nathan Outlaw is one of the most respected seafood chefs in the country and has previously worked alongside Gary Rhodes, Eric Chavot and Rick Stein.
His own restaurants are highly acclaimed, with previous flagship Restaurant Nathan Outlaw in Port Isaac winning two Michelin stars – the only specialist seafood establishment in the country to win such an accolade.
As well as Outlaw's Fish Kitchen where Miguel is working, Nathan's other focus is on his Michelin-starred Restaurant Outlaw's New Road and Outlaw's Guest House.
If you are interested or know somebody who is interested in improving their culinary skills, check out cornwall.ac.uk or come to our next open day on Thursday 29th September 5pm-7pm.