24th November 2020
Former serviceman teaching boat builders of the future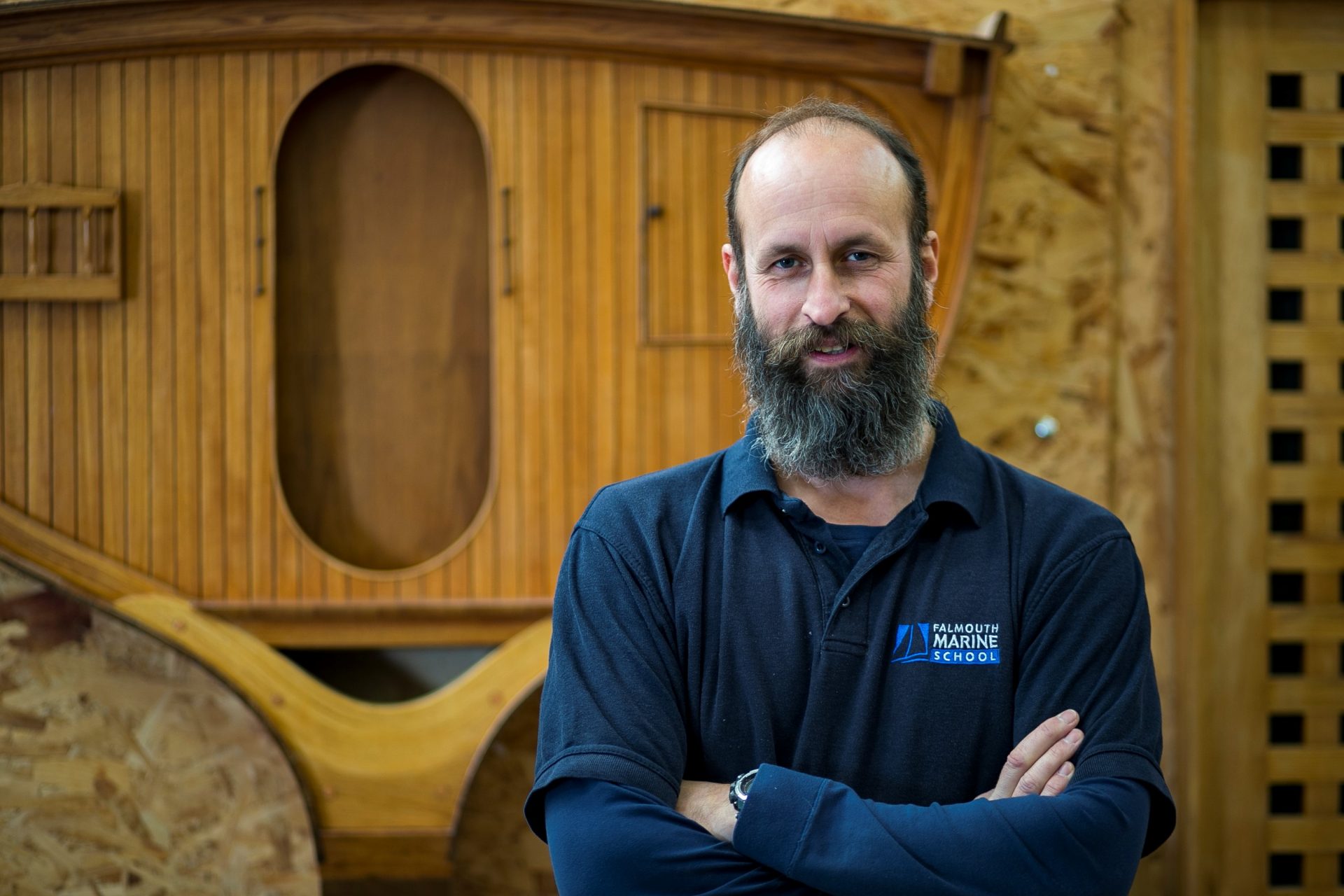 Former serviceman teaching boat builders of the future
A lecturer who retrained after completing 22 years of service in the Military is highlighting to others the massive amount of retraining options available.
Study Programme Manager for Boatbuilding at Falmouth Marine School, Chris Bosanko – Green, spent nine years in the Royal Air Force and 13 years in the Army before he had to consider his options for resettlement.
"Looking through the multitude of resettlement magazines that are readily available to personnel at this endpoint of their military careers, I was drawn most to the thought of using the practical skills I had learned early in life and in particular woodworking, which I had continued to practice as a hobby," Chris explained.
"The one trade encompassing these skills that really stood out to me was boatbuilding, the challenge of building something like nothing else I had made from timber before. Sailing was something I had always enjoyed and also something that I wanted to explore and learn more about."
For Chris' final posting he returned to Cornwall where he met CEO of the forces sail training charity Turn To Starboard, Shaun Pascoe.
Chris was offered a place on their Yachtmaster programme for ex-servicemen. He completed a number of RYA qualifications with Turn to Starboard. He also completed RYA powerboat courses and a marine diesel engine course, all in preparation for his transition to Boatbuilding.
After completing his final day in uniform, Chris finished his boatbuilding training at Falmouth Marine School.
"Skills taught during this course included basic joinery, marine specific joinery, traditional wooden boat building techniques, modern wooden boatbuilding techniques and skills required for the fabrication and repair of composite constructed boats," Chris explained.
"The best part of the course was being able to practice and develop these skills on live boat projects, in-line with industry standards."
Chris registered his own company and started to undertake some small paid jobs.
"On successful completion of the course I continued with my business venture, with a view to making it as successful a company as I possibly could," he continued.
"In 2018 I became a boatbuilding instructor at Falmouth Marine School."
This year Falmouth Marine School is celebrating 100 years of teaching boatbuilding skills to the marine industry.
Head of Falmouth Marine School, Steve Taylor, said Chris has "become a great asset to the boatbuilding department at Falmouth Marine School."
"His transferable skills learnt in the forces have been very useful in his teaching career, they have allowed him to develop himself into the role and his thirst for self-development and knowledge really show."
"I'm very proud to be a part of this College in such a monumental year and I look forward to teaching the boat builders of the future for many more years to come," Chris continued.
"This is a job that I get so much from; watching students that have never undertaken any woodwork training in their lives, work together to produce, repair and restore some absolutely fantastic boats.
"The achievements of some of these learners in a relatively short space of time is absolutely phenomenal."
When Chris retired from the military, he never thought he would end up teaching in Further Education.
"I know think that this is a role that service life prepares us well for. In any trade and any vocational qualification, teaching is about sharing knowledge, developing understanding, promoting learning within an engaging environment, coaching, mentoring, assessing and preparing learners for progression into industry."
"I get immense satisfaction from watching the growth of my learners from day one to completion of their course; and the sense of achievement on their faces when we launch our boats at the end of the year is just priceless."
"If you meet the criteria for a particular subject, I couldn't recommend teaching within the FE sector highly enough," Chris concluded.