6th May 2022
Construction Academy signals commitment to tackling skills gap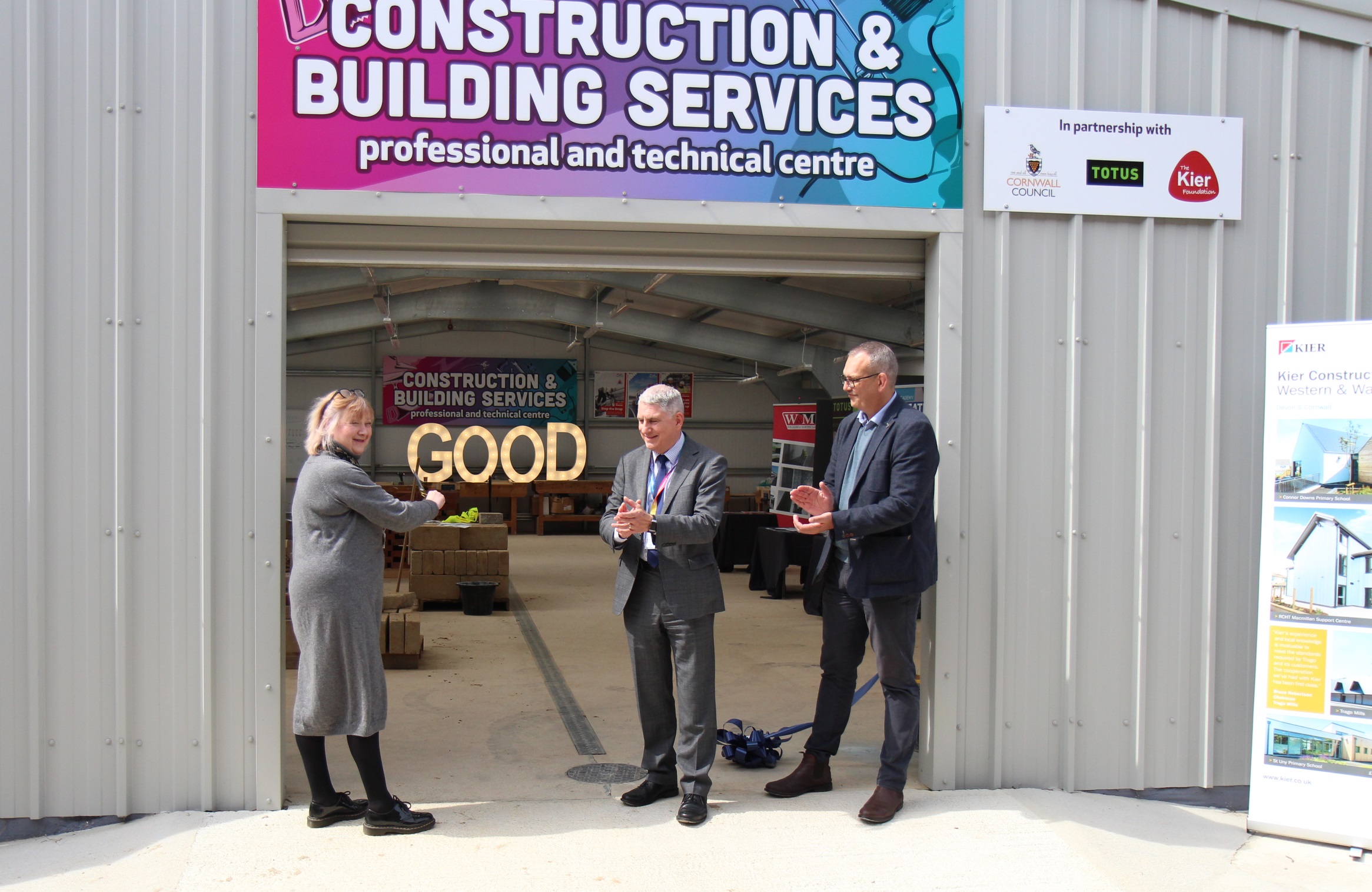 Construction Academy signals commitment to tackling skills gap
School children in Cornwall are getting the opportunity to learn highly-valued construction skills thanks to the launch of a pre-16 Construction Academy building at Cornwall College Camborne.
The Construction & Building Services Professional & Technical Centre, which is part-funded by Cornwall Council and Kier Construction, with support from Cornwall Groundworks and Landscaping, and Totus, is used by students from local schools to study one to three afternoons a week at the College.
They learn practical skills working towards a national qualification in construction trades, only deliverable in a purpose built, industry-standard space, guided by a college tutor.
Kate Evan-Hughes, Service Director (Education and Community Health) Cornwall Council, said the opportunity for young people in Cornwall "is fantastic".
"For many of our learners, the opportunity to have that real life learning experience is key to their success and what enthuses them. This Academy will give them that chance. The partnership between Cornwall College, Kier and the Council, really puts our learners at the centre of the experience, reflects what they need, alongside ensuring a pipeline of employees for the construction industry. I am proud to be part of that partnership – making a difference for our young people in Cornwall."
Principal and chief executive of The Cornwall College Group, John Evans, said it was another proud day for the Group following its recent glowing Ofsted report.
"This is a fantastic facility for young people to gain important skills, achieve a recognised qualification that is the equivalent of a GCSE and take the first steps into rewarding careers," he said.
"Ofsted praised us for our work and how we offer a curriculum which meets the needs of learners, the community and local stakeholders, so it is great we can help support our local schools by providing this service for students."
Kier Construction was keen to support the development of young people and its Academy students are the first to use the facility. An academy learner from Redruth School gave an impressive demonstration of the skills they have learned to guests at the launch.
Chris Couch Area Manager, Kier Construction said: "We were delighted to recently meet the Kier Academy students and to sponsor their training at Cornwall College. This is a unique programme that will provide opportunities for 14-16 year olds to get a real taster of the construction industry. Cornwall College have provided an excellent platform of learning that will enable the students to try different trades and professions and decide on their future career path.
"The construction industry provides so many opportunities for young people in Cornwall and we want to encourage people to join us. Many young people don't understand the breadth of job roles available and the fact that they can enjoy an exciting and progressive career and stay right here in Cornwall. The Kier Academy provides a brilliant opportunity for our future generations and I look forward to welcoming some of the young people I have met today to join the industry."