30th September 2021
Bicton College lecturer picks up national veteran's award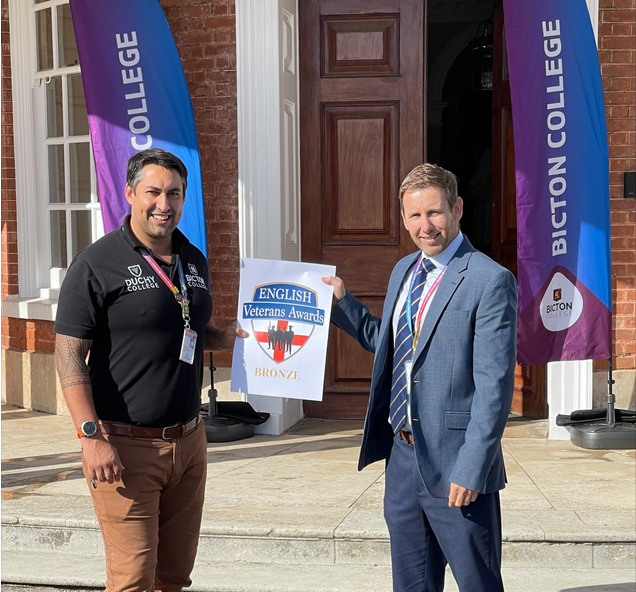 Bicton College lecturer picks up national veteran's award
A local college lecturer and former marine has won an accolade for 'role model of the year' in the English Veterans Awards. 
Scott Lawson, curriculum area manager for military and protective services at Bicton College in East Devon took bronze at the awards which were announced earlier this week. 
Upon hearing the news he commented: "I feel truly honoured to have been nominated, shortlisted and ultimately receive an award for 'Role Model of the Year' in the English Veterans Awards 2021. 
"My journey from the Royal Marines through to working here at the college is one that I am incredibly proud and thankful for.  
"The staff and students at The Cornwall College Group, and particularly the Bicton College campus, are amazing people and continue to inspire me to be the best version of me possible." 
The ceremony was held in the Village Hotel in Solihull on September 15 and was hosted by Radio X DJ Polly James. 
The awards, held in association with the ABF The Soldiers Charity, recognises the country's veterans now serving in business, fitness, sport and wider community roles, as well as reservists doing great things and the companies that support the military community. 
Scott joined the Royal Marines in 2002 at the age of just 16 years old, when he was told he had a 13 per cent chance of completing training as an original at such a young age.  
"I defied the odds and completed Royal Marine training in 2003 before being posted to 42 Commando in Plymouth," he commented. 
"I always knew I wanted to be a Marine from as young as I can remember! My father was a Royal Naval Officer who has travelled the globe managing NATO interoperability exercises, conflict zones and humanitarian operations.  
"His stories inspired me and I would spend time at Royal Navy events in awe of the capabilities and ethos of the Royal Marines." 
In 2009, Scott was injured whilst serving in Afghanistan which is what ultimately saw him leaving the Marines, but during his service he was an Inspirational Instructor at the Royal Marine Training Centre. It was here that his passion for teaching, coaching and mentoring was sparked. 
Scott made the move from the Royal Marines to the education sector in 2013 whilst completing a degree in teaching.  
At that point Bicton College, which was already highly acclaimed for its courses in agriculture and equine, had just launched its Military and Protective Services programmes, so Scott became one of the first lecturers to bring this new and exciting career opportunity to local students. 
Head of campus at Bicton College, Darren Evans, commented: "The entire Bicton family is incredibly proud of Scott for winning this award – but we are not surprised. His commitment, determination and drive to help our students achieve their very best quite literally knows no bounds. 
"Having served for his country, he now serves our local community with just as much passion. We are honoured to have him on our teaching team, passing on his skills, knowledge and values to the next generation who will keep our country and communities safe." 
Bicton College, which is part of The Cornwall College Group, is also a proud member of the Military Covenant having joined earlier this year.