14th June 2021
Aerospace apprentices take torch in coveted games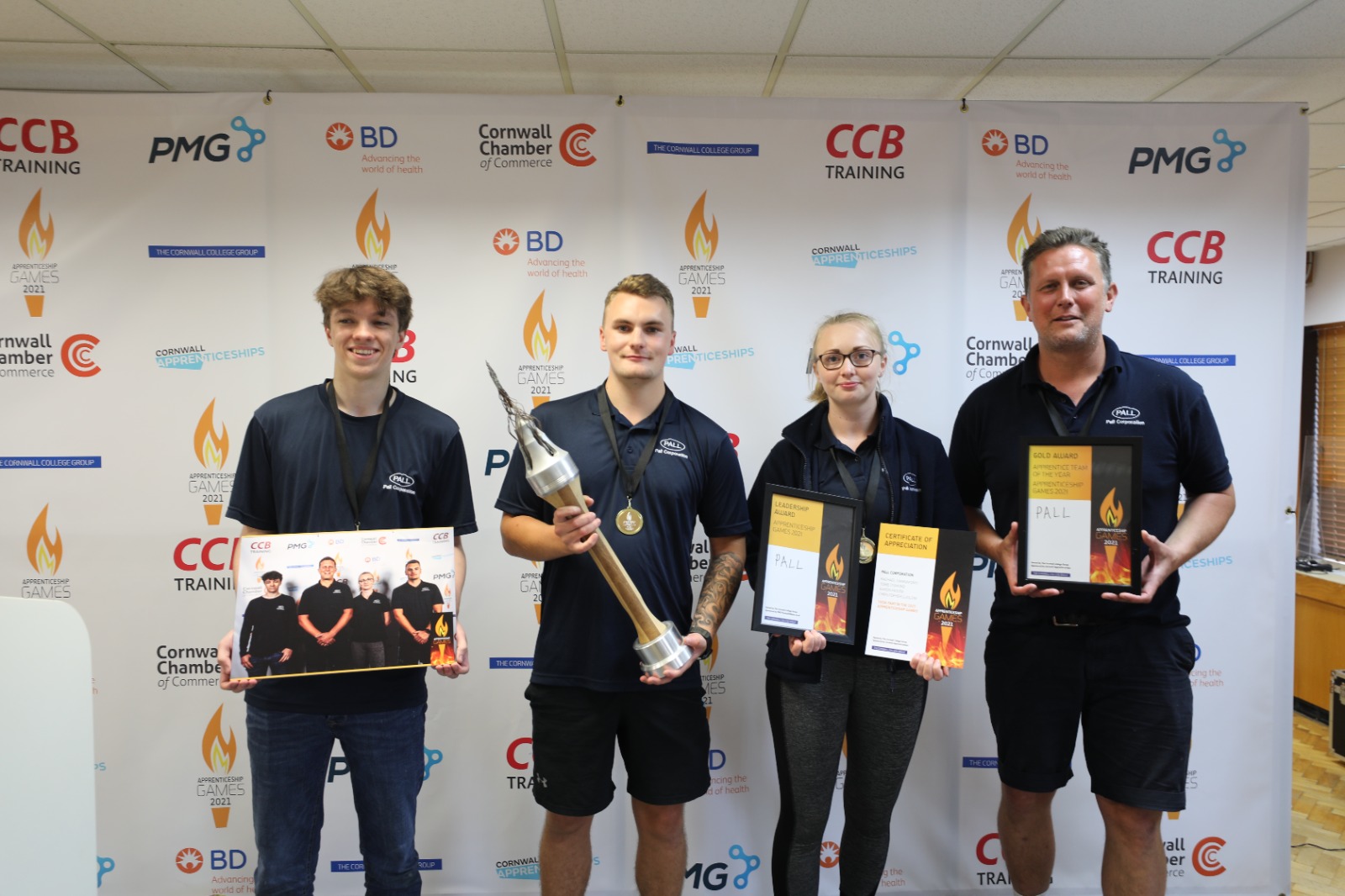 Aerospace apprentices take torch in coveted games
Apprentices from PALL Aerospace are celebrating after a triumphant win at this year's Apprenticeship Games, following a fiercely fought competition with the region's top businesses.
The games, held at The Cornwall College Group's (TCCG) Camborne campus, saw businesses and organisations with apprentices battle it out in a range of events testing their mental, physical and creative skills.
Each team took turns at a G7-themed University Challenge-style quiz round with mascots and buzzers, alongside challenges involving omelettes, hair and nails, a tough physical sporting scenario, construction-themed tasks, veterinary first aid, a military assault course and shooting range.
The event for apprentices and their employers across the south west has become an annual celebration of the further education offer.
TCCG's principal and chief executive, John Evans, commented: "We created the apprenticeship games to celebrate and raise the profile of apprenticeships across the region, while bringing top businesses across Devon and Cornwall together.
"Furthermore, there was a desire to create a fun and challenging event that showcases the breadth of apprenticeships on offer. Apprenticeships are a great way for people of all ages to earn while they learn, progress in their careers or work towards degree-level qualifications.
"Congratulations to this year's winners PALL who fought of stiff competition to take home this year's trophy. We're already looking forward to watch them defend the title next year!"
The event was also an opportunity for apprentices to demonstrate the skills they have developed on their apprenticeship journey.
Following the event, Chris Ludlow, aerospace line leader for PALL's apprentice training programme, said: "We were really happy and incredibly proud to have represented PALL in the 2021 apprenticeship games – and it was made even sweeter to take our first win!
"The day was amazing fun, very well organised and the food supplied by Cornwall College catering students was great.
"It was fantastic to use our skills and behaviours in so many diverse challenges throughout the event and really show what we are all about.
"The apprenticeship games is fantastic for getting together with other local companies to highlight the importance and value of apprenticeships.
"We are already looking forward to defending our title in 2022."
Employment and apprenticeship officer Cathie Kessell, from headline sponsor Cornwall Apprenticeships, said: "These games recognise and celebrate the many benefits apprenticeships and apprentices of all ages bring to employers across the county and beyond.
"After such a tough year, it's a great to have some competitive fun; to recognise and celebrate apprenticeships, our local apprentices and their employers who've continued working throughout covid."
As well as the gold, silver and bronze awards up for grabs, which were taken home by PALL, BD and the TCCG construction and estates team respectively, further prizes were awarded for skills needed throughout the day.
As the challenges were designed to put the team's leadership, teamwork and communication skills to the test, judges selected those who have best demonstrated these skills on the day.
Cornwall Chamber of Commerce sponsored an award for communication which was won by TCCG construction and estates apprentices, whilst a leadership award, sponsored by Plymouth Manufacturing Group, was won by PALL and the final category for teamwork, awarded by sponsor BD, was picked up by apprentices from Pendennis Shipyard.
Teams taking part included BD, Pendennis, Imerys, PALL Aerospace, King's Service Centre, Whyfield, Cornwall College Estates team and other apprentices from the college.