Multiply: Maths Skills for Life
FREE fully-funded programme to help adults improve their numeracy skills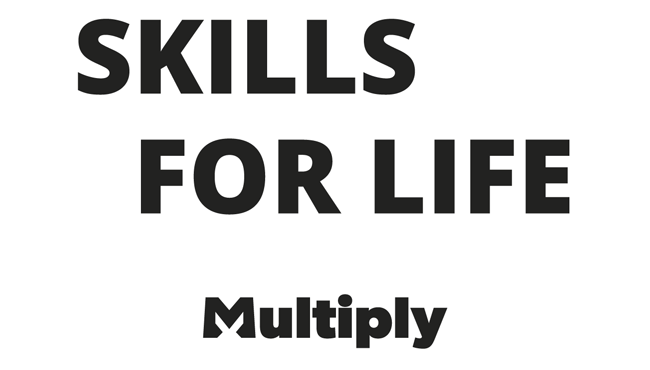 Multiply is a new FREE fully-funded programme to help adults across the UK to improve their numeracy skills.
Multiply is a new government-funded programme to help adults improve their numeracy skills.
If you're aged 19 and over and don't have maths GCSE at grade C (or equivalent), you can access free numeracy courses through Multiply to build your confidence with numbers and gain a qualification.
Good numeracy skills may unlock job opportunities and lead to higher wages or prepare you for further study. They also help in everyday life, such as helping children with homework and budgeting money.
There are courses for beginners to more advanced courses such as GCSE Maths, Functional Skills Qualifications, or equivalent, so you will be able to learn at a pace that suits you.
Unlock new job opportunities or progress in work
Earn higher wages
Manage your money better
Support your child with their home learning
Take the next step to higher levels of training for example, an apprenticeship or level 3 qualification (equivalent to A levels)
Adults aged 19+ who do not already have a GCSE at grade C (or equivalent) in maths
Classroom-based, Online, Short courses
Multiply courses will be launching this September.
Register your interest below by signing up to join our waiting list.
We will be in contact you with more information as soon as we are ready to launch.
Managing your money
With the rise of inflation and cost-of-living crisis, managing your money effectively is extremely important. Improving your numeracy skills will allow you to identify the best deals, manage your income and avoid debt.
learn how to compare energy tariffs
gain skills to improve budgeting, planning and managing your income
discover how you can find the best mobile phone deals and WiFi contracts
Upskilling for promotion
Are your numeracy skills holding you back from a promotion or a career change? These courses are designed to help you progress in your career by providing you with the ability and qualifications you need.
learn online and in your own time to accommodate existing commitments
personalised courses which identify specific knowledge gaps
option to work in partnership with your employer, so that you learn relevant skills for your job
Supporting your child with home learning
Maths has moved on since we were in the classroom, with school students learning a range of new methods and strategies. These courses are designed to empower and educate parents with the current maths their children are learning in lessons, making it easier for them to support with homework.
learn the current methods and strategies for each year group
gain confidence to support your child with maths homework right through to GCSE level
have option to progress onto one of our adult courses
"We are delighted to be able to support the Multiply programme in Cornwall. Maths is at the heart of so many careers and opportunities. As the Career College, we know that no matter your age or situation, education can make a positive impact on your life and we would encourage businesses, parents and carers to get in touch to see how they can benefit from Multiply with The Cornwall College Group."
Kate Wills
Group Deputy Principal Curriculum and Quality, The Cornwall College Group