8th July 2021
Star students celebrated at dazzling awards ceremony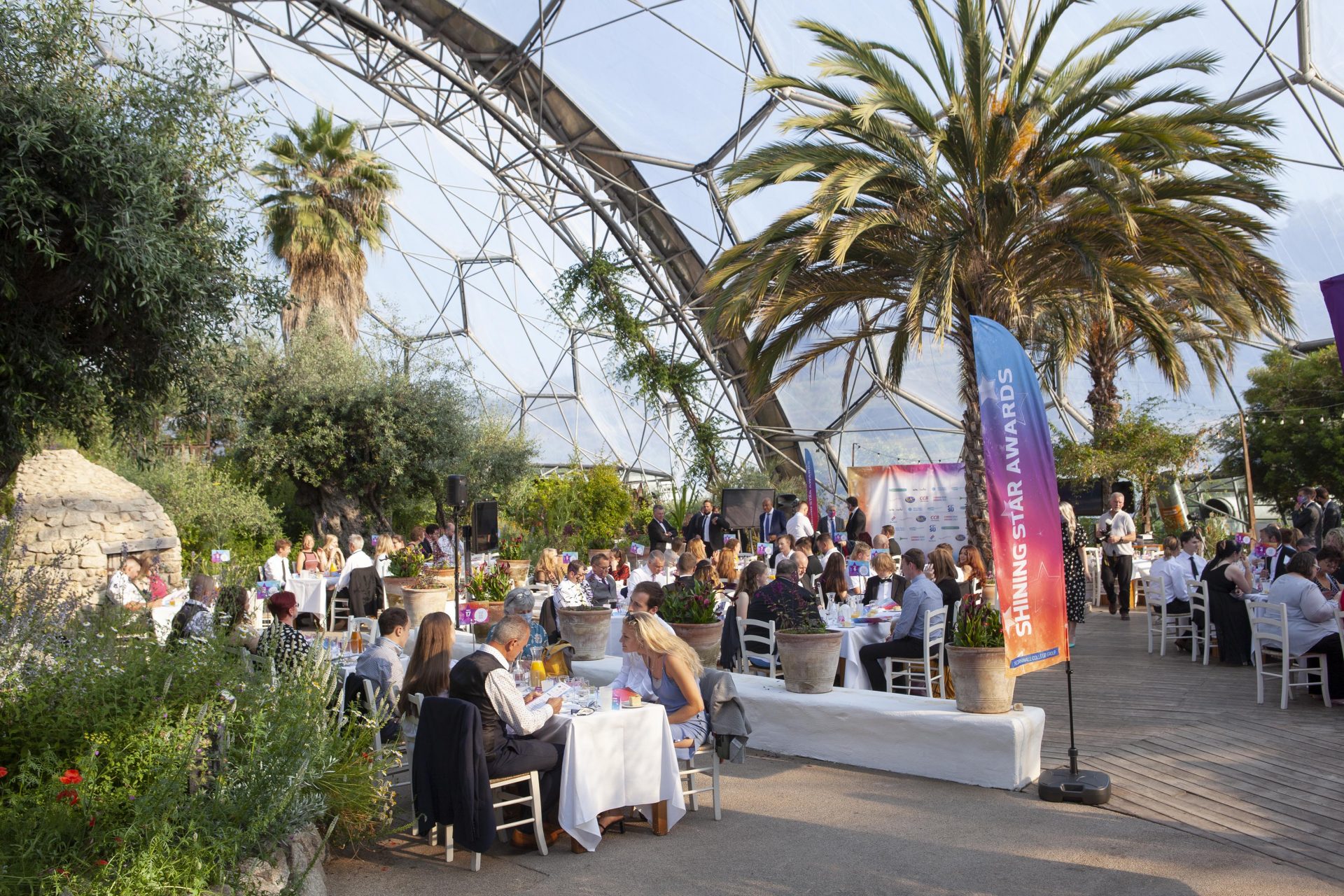 Star students celebrated at dazzling awards ceremony
The region's largest college group has honoured the achievements of its top students with a dazzling award ceremony at the world famous Eden Project.
The Shining Star Awards, an annual event held by The Cornwall College Group (TCCG), is a celebration of student success from TCCG's 10 campuses across Devon and Cornwall.
Hosted by the always entertaining Johnny Cowling from Pirate FM and held in the stunning setting of the Mediterranean Biome, student winners, family members, staff and VIP guests came together to highlight successes within Further Education and Apprenticeships areas offered by the college group across the South West.
Actor, writer and presenter Stephen Mangan even took time out from filming Landscape Artist of the Year to congratulate the winning students.
Principal and Chief Executive for TCCG John Evans, said it was "a privilege to be able to celebrate our incredible students".
"Their successes, whether they be academic triumphs, community-focused good deeds, or overcoming all manner of obstacles to follow their dreams, are an inspiration to us all," he continued.
"Each student has an individual story to tell, but they all share a commitment, drive and passion to succeed in their studies. These are traits that will carry them forward as they embark on their adventures into the wider world and their careers, for which I wish them every success."
Following covid safety guidance, not everyone was lucky enough to be there in person, but an online live stream gave family members and college staff the opportunity to join in the celebration from the comfort of their own homes.
"I'm so happy that we were able to go ahead with the awards after the unsettled time we have all been living through recently," John continued.
"The live stream was a great addition to the event. We had hundreds watching from home, commenting and engaging on social media and joining in with the special atmosphere of the night. We have an uncompromising ambition at The Cornwall College Group for our students and the experience and support we give them."
"I also want to take the opportunity to thank the amazing staff of The Cornwall College Group. I cannot say enough about the passion and energy that staff put in to ensure that every student that studies with us receives the absolute best. They are the ones who drive the ambition that leads to our students' successes and for this I am extremely grateful."
Following a performance by students from Altitude Dance Company at Cornwall College St Austell and an inspirational speech from co-founder of the Eden Project Sir Tim Smit, guests sat down to a delicious meal before the awards ceremony began.
Each award saw three candidates shortlisted from hundreds of nominations made by TCCG teaching and support staff.
Students studying at Duchy College Stoke Climsland, Duchy College Rosewarne, Falmouth Marine School, Bicton College and Cornwall College campuses in St Austell, Camborne and Newquay were all potential nominees.
Among the winners was 17 year old Abby Treleaven from St Austell, who won the Agriculture award.
Abby's nominator described her as "a hardworking, caring and conscientious student, a bright star in our department."
Winner of the CCSU Students' Student Award was Kyle Adams. This award, sponsored by long-time sponsor Domino's, is the only award of the evening that was decided by fellow students.
Kyle, who studies at Cornwall College St Austell was chosen by his peers for the inspiration he offers as class representative. Despite working at the hospital and also being a carer, Kyle never fails to lift the mood and encourage classmates around him.
Rebecca Barrington Director of Student Experience at TCCG offered her congratulations to all student winners for "the successes they have achieved during their time with us over the past year."
"I would also like to thank all of the College staff who helped to make this year's awards special despite challenging circumstances and to all of our wonderful sponsors whose generous support makes this event possible."
Sponsors for the Shining Star Awards included Cornwall Apprenticeships, Domino's, Cornwall by Kernow, Pirate FM, Adventures by Bus, Next Steps South West, NCFE Cache, CCB Training, CCSU and Truronian.