7th May 2021
Creative college course taps into Cornish mining heritage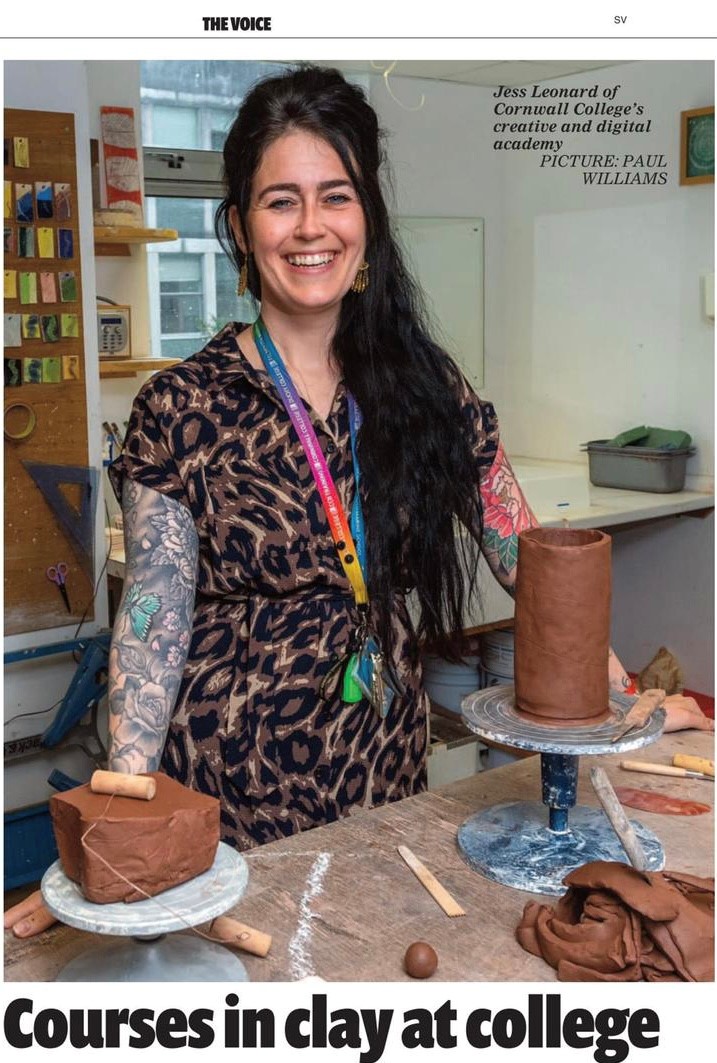 Creative college course taps into Cornish mining heritage
St Austell's rich history of china clay mining is the inspiration behind a brand new course at Cornwall College.
The Clay and the Community Diploma, starting in November at the college's St Austell campus, is designed to develop the skills and knowledge of working with clay artistically.
"St Austell is the place to be when it comes to creativity and clay" said Curriculum Area Manager Jess Leonard from the college's Creative & Digital Academy.
"Working with us and our incredible facilities, which boast 4 kilns and a dedicated ceramics studio, will allow students to develop a core set of skills before going on to collaborate with The Austell Project, Whitegold and Brickfield," explained Jess.
"Running from November through to May, the course is also timetabled to allow people with families or other commitments to return to creative education in a very accessible way."
The arrival of the course coincides with a period of renewed focus on the long and proud history of china clay mining in the St Austell area, engaging communities in a cultural celebration of china clay through the arts.
Spearheaded by the Austell Project, local initiatives are now gaining national recognition, with the Whitegold public art trail named as one of the 10 best new UK attractions to visit in 2021 by the Guardian.
"Our current students already work with the incredible artists who are leading this creative clay revolution," continued Jess.
"This includes Marion Brandis, whose Clay Planet now sits in St Austell town centre and Robin Sullivan, whose project explores the 6000 year history of the Treverbyn Skytip site, archaeological field trips and 72 hour wood firings in a kiln he's built.
"Not to mention the incredible work we've done in supporting Fleur Winters wondrous signage for The Market House and Studio Hotmess and their Edible Hinterlands plant tiles for Café Tengo."
The course covers a range of both traditional and contemporary practical techniques, including throwing, hand building, modelling, casting, moulding, glazing decoration and firing. Using these skills, students produce an innovative and creative portfolio of 2D and 3D artwork that demonstrates an ability to contextualise design practice within the professional arena.
"St Austell is the home of clay, so it feels so right that we can provide an opportunity for people to grow in this special subject, as well as recognise the importance of art as a means of social and community engagement," continued Jess.
"We are the best place to start that exploration, to be bold, to take risks and to find yourself in your new practise."
For more information about the Clay and the Community Diploma, or any of the courses offered by The Creative & Digital Academy at Cornwall College St Austell, please visit www.cornwall.ac.uk or contact the College on 0330 123 2523.