30th May 2022
Awards pouring in for college restaurant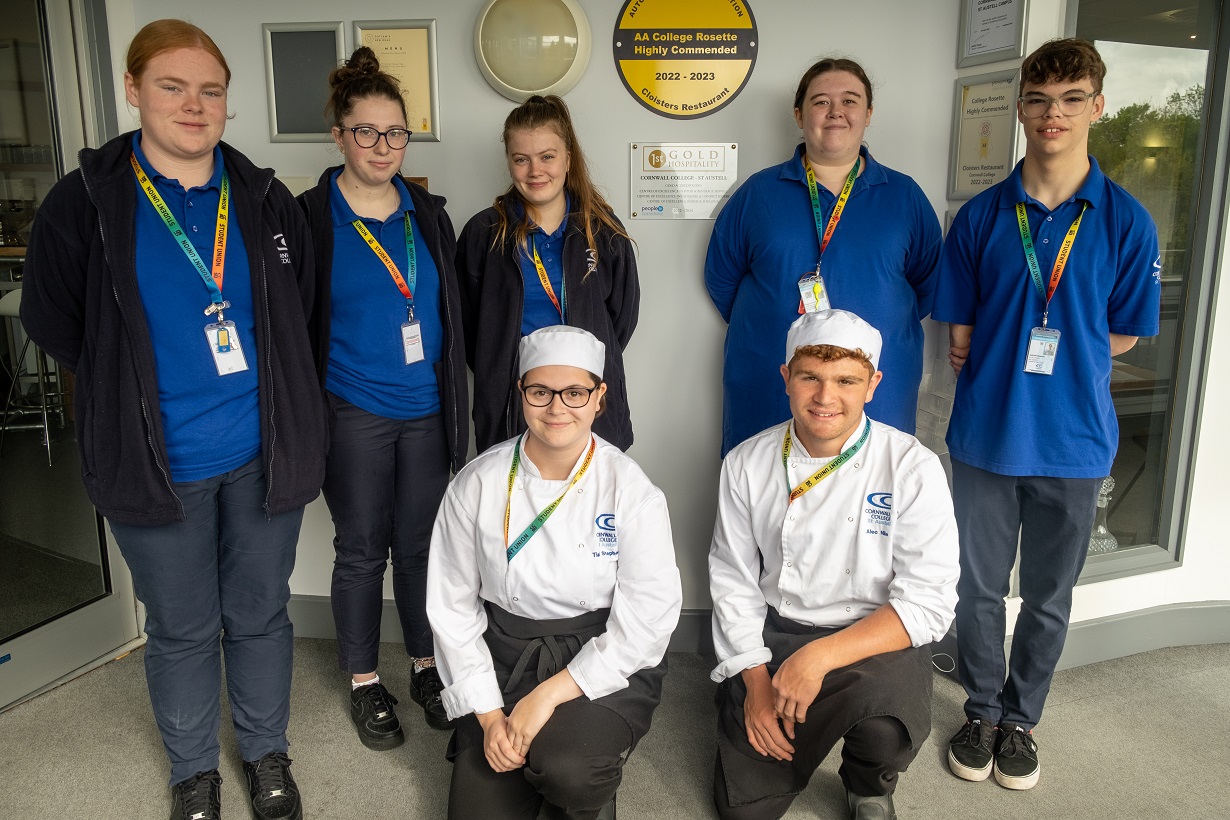 Awards pouring in for college restaurant
Cornwall College St Austell's student-run Cloisters Restaurant, is cooking on gas after receiving a slew of accolades.
The on-campus fine dining establishment has gone from strength-to strength in recent weeks with an impressive list of awards and recognition, including being shortlisted for College Restaurant of the Year (CROFTY).
Launched in 2016 in partnership between People 1st International and AA Hotel Services, the AA College Restaurant of the Year award recognises the hard work of chef lecturers and student brigades that run college restaurants.
Alongside this honour, in recent weeks Cloisters Restaurant has also received an AA College Rosette as Highly Commended, receiving GOLD accreditation from the skills and quality assurance expert People 1st, as well as being recognised with Centre of Excellence status for Food & Beverage Service, Patisserie & Confectionary and Fish & Shellfish.
"I couldn't be prouder to see our students recognised in such a prestigious way," said Kym O'Mara, Head of Campus at Cornwall College St Austell.
"Cloisters Restaurant has continued to build on its successes following its return to service after lockdown. Receiving this level of recognition reflects the unwavering dedication and hard work that our students and staff put in," continued Kym.
"It's testament to the fantastic high quality of both the food and the service provided. Well done!"
Following their shortlisting for College Restaurant of the Year (CROFTY), the team of staff and students from Cloisters Restaurant will now attend the 'Judging Day' at the Dorchester Hotel in London in June where they will be asked to present to a panel of industry judges as well as experience life behind the scenes of a busy London hotel and hear from a renowned person from the hospitality industry.
Cloisters Restaurant, Cornwall College St Austell's fine dining commercial restaurant is open for formal lunch from Tuesday – Friday 12:00 – 12:45.
Offering excellent food at greatly reduced rates, with some experimental menus from our students as well as the traditional classics you would expect from a five-star establishment. The restaurant is also available for large group bookings.
To make a reservation call on 01726 226 740 or email on cloistersrestaurant@cornwall.ac.uk